Obsessed with frogs?
Welcome to our frog gift ideas page!

Packed full of things for those who love frogs, we have found lots of frog related goods, frog facts, frog gifts and frog fun for you. From frog jewellery to frog clothing, you can kit yourself out in frog merchandise or buy a frog present for a frog obsessed friend.
Climbing Frogs Wall Art
Set of three beautiful metal frogs perfect to use as wall art and for making a feature of any indoor/outdoor wall. Products measure 36 x 59, 27 x 31 and 35 x 40 cm respectively. Easy to hang (fixings not included) Items are not frost proof.

£42.00

Eco Friendly Greetings Cards - Frog
The treemendous range of cards is unique in the respect that each recycled card contains a real tree sapling. The recipients of these unique cards can plant a tree and watch it grow long after their other birthday greetings cards have been forgotten.

£7.99

Leaping Frog Ring
Elegant and stylish, this leaping frog ring is beautifully hand carved by Bill Skinner and his team.

£65.00

Frog Kigu
A craze that has swept Japan and has now become a festival essential, you can transform yourself into a walking talking animal with this button-up onesie by Kigu. It features a lined hood with a fun 3D face and ears with a tail at the back and rib knit ankles and cuffs

£40.00

Frog Prince - Awaiting a Kiss
Officially licensed photography print. Featuring the real prince charming. A little frog in a crown awaits a kiss from a princess in this cute photo.

£5.99

Thomas Sabo Pearl and Frog Charm
Sterling Silver. Simulated Pearl Charm with Frog Detail. Lobster Clasp. To be Attached to Necklaces, Bracelets, Earrings and Mobile Phones

£50.00

Frog Pinata
This Frog Piñata works as a unique decoration or centrepiece as well as a game. This is a traditional piñata that needs to be broken up to release the goodies inside.

£12.95

Frog Airwalker Balloon Pet
Frog Airwalker Balloon Pet with lead delivered on the morning of you choice to any UK address. Airwalker balloons hover at ground level with feet that dangle to the floor to give the appearance of walking when pulled on their lead!

£21.00

Personalised Frog T-Shirt
This classic round-necked basic T-shirt by B&C is the Shirtcity standard T-shirt for men, but it is also popular as a unisex product. This T-Shirt is comfortable to wear, because of its broad and casual cut. The big colour palette supports all prints and colour combinations.

£18.95

Frog Grippy Mat
Frog Grippy Mat is your new sticky best friend that is your most needed accessory for your car! This specially sticky anti-slip mat, sticks on the dashboard of your car which you can then place all your gadgets and items on them, and they will hold on for dear life whilst you whiz around in your car!

£6.95

Stamped White Quilt Crib Top 40
Frogs Crib quilt top. Package contains 1 Stamped cotton/poly broadcloth size 40x60 quilt top with instructions for Embroidery and cross-stitch pattern Ink is designed to wash out easily. colour: White.

£13.99
Remember to visit our blog for for even more gossip and facts about frogs!
---
Fairytale Frog Prince Tooth Box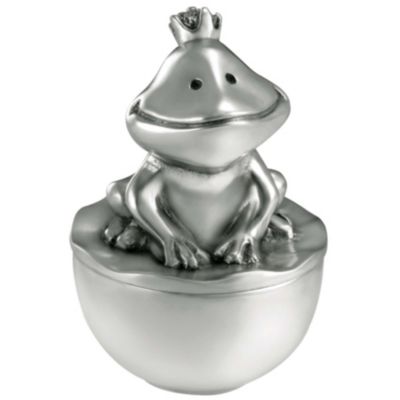 A magical gift for your daughter or a friend. Delightful gifts for all occasions.
£30.00
Froggie Green Wellie

Closed shoe. Slip-on. Water resistant.
£18.00
Tiffany Style Solar Frog

An ideal decoration to place next to your garden pond or water feature, this little frog looks cute enough by day but come nightfall he emits a warm, gentle glow. During daylight hours he charges up the necessary energy via a discreet solar cell.
£22.95