Obsessed with Penguins?
Welcome to our penguin gift ideas page!

Packed full of things for those who love penguins, we have found lots of penguin related goods, penguin facts, penguin gifts and penguin fun for you. From penguin jewellery to penguin clothing, you can kit yourself out in penguin merchandise or buy a penguin present for a penguin obsessed friend.
Penguin Drink Coolers - Pack of 18
The Chilly Feet Penguin Drink Coolers - Pack of 18 are a fun way of keeping your drinks chilled, without diluting or affecting the taste. Filled with sterilised water, the cute penguins will dive straight out of the freezer and into your drink, and are completely safe and reusable.

£8.99

Cute Penguin Wristband
Animals wristband. Featuring a cute penguin. Take home some cute penguins with the perfect wristband for animal lovers. 100% silicone wristband.

£2.99

Lamaze Bend & Squeak Penguin
Lamaze introduces a new line of high-contrast toys for babies geared towards encouraging the development of baby's vision. Made with soft, premium materials, the Bend & Squeak Penguin features two sides of play.

£4.50

Tacky the Penguin - Book
Tacky is an odd bird who marches to the beat of a different drummer. Tacky's perfect friends find him annoying until his eccentric behaviour saves the day. Full colour.

£4.00

Penguin Trainer Socks
P-p-p-p-pick up this pair of cosy socks featuring part of a penguin's face. Put your feet together and you have the whole of the bird's visage.

£6.00

Footprints - Penguin Poster
Officially licensed animals print. Featuring an adorable penguin staring curiously at footprints in the sand. A beautiful image that captures the imagination of all.

£7.99

Playful Penguin Hat
Cute Playful Penguin can now accompany you everywhere on cold days with this warm plush hat.

£7.99
Remember to visit our blog for for even more gossip and facts about penguins!
---
Penguin Wall Clock

A beautiful gift for your child's room - it's not only decorative, but functional as well! Our Penguin Wall Clock is sure to appeal to young children, and features a smiling penguin, happily waving to passers by. The clock is wall mounted and includes a swinging fish pendulum. Personalise this great clock with any Name of up to 12 letters.
£29.99
Designer Metallic Penguin Lamp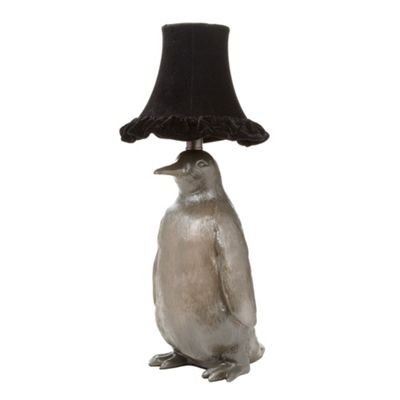 Add a creative touch to the home with this metallic penguin lamp with a black velvet shade from our exclusive range by Abigail Ahern for Edition.
£85.00
Playful Penguin Pillow Pet

Straight from the South Pole, this adorable black and white penguin will win you over with his sweet face and even cuter yellow beak. This is an 18" Pillow Pet.
£9.99