Obsessed with frogs?
Welcome to our frog gift ideas page!

Packed full of things for those who love frogs, we have found lots of frog related goods, frog facts, frog gifts and frog fun for you. From frog jewellery to frog clothing, you can kit yourself out in frog merchandise or buy a frog present for a frog obsessed friend.
Life Cycle Stages Frog
These lifelike life cycle figures can pass for the living things! Great as a visual aid for the classroom, the accurately detailed Eggs, Tadpole, Young Frog and Adult Leopard frog replicas are oversized for little hands.Ages 4 & up.

RRP: £3.99
Offer price: £3.99

Galt Toys Frog in a Box Toy
A soft fun version of the classic jack-in-a-box toy, with a difference lift the lid and the frog jumps right out of the box. Soft, fun version of the classic jack-in-a-box toy--lift the lid and a frog jumps right out of the box Squeaky frog with rattle Unique mechanism Removable, machine washable ma...

RRP: £17.99
Offer price: £14.99

Room on the Broom 7-inch Frog Soft Toy
This adorable character is based on the Frog character from The Room On The Broom books, which is from the creator of Gruffalo, Julia Donaldson and Axel Scheffler. The witch and her cat fly happily over the forests, rivers and mountains on their broomstick until a stormy wind blows away the witche's...

RRP: £9.99
Offer price: £9.98

Summer Infant Slumber Buddy Frankie The Frog


Summer Infant Slumber Buddies:

The Slumber Buddy is the ideal bedtime companion for soothing your little one to sleep. A star and moon display projects around the room in 3 colour options – blue, green and amber. Complete with lullabies and nature sounds and a 30 minute auto shut-off, ...

RRP: £24.99
Offer price: £16.34

Frog Tape Painters Masking Tape Multisurface - 36 mm x 41.1 m
FrogTape Multi-Surface is a medium adhesion painters tape designed for use on cured painted walls, wooden trim, glass and metal. After application it will remove cleanly from most surfaces for up to 21 days (or 7 days in direct sunlight). FrogTape is a true innovation - saving you time, money and gi...

RRP: £8.89
Offer price: £5.01

Toddler Frog Costume
This costume makes it easy to be green ! Your little tadpole will be hopping with delight with this Frog Costume from our animals and insects collection.

£9.99

Frog Prince - Awaiting a Kiss
Officially licensed photography print. Featuring the real prince charming. A little frog in a crown awaits a kiss from a princess in this cute photo.

£5.99

LeapFrog Tag Reading System Book -The Princess and the Frog.
Use your Tag Reader to bring this story to life! When an unlikely encounter turns her into a frog, Tiana learns that dreams can come true in the most unexpected ways. After the story, play learning activities that help build vocabulary and reading comprehension skills.

£12.97

Climbing Frogs Wall Art
Set of three beautiful metal frogs perfect to use as wall art and for making a feature of any indoor/outdoor wall. Products measure 36 x 59, 27 x 31 and 35 x 40 cm respectively. Easy to hang (fixings not included) Items are not frost proof.

£42.00

Personalised Frog T-Shirt
This classic round-necked basic T-shirt by B&C is the Shirtcity standard T-shirt for men, but it is also popular as a unisex product. This T-Shirt is comfortable to wear, because of its broad and casual cut. The big colour palette supports all prints and colour combinations.

£18.95

Vtech Bounce and Discover Frog
Bounce, play and learn with the Vtech Bounce and Discover frog! This fun interactive bouncer features two modes of play: in one mode, discover numbers 1-10, learn about different colours, and learn about different animals and the noises they make. In the second mode, sing along to six fun songs and listen to eight happy tunes as you bounce away.

£29.99

Frog Airwalker Balloon Pet
Frog Airwalker Balloon Pet with lead delivered on the morning of you choice to any UK address. Airwalker balloons hover at ground level with feet that dangle to the floor to give the appearance of walking when pulled on their lead!

£21.00

Freddy The Laughing Frog Toy
This motion and light activated Roffle Buddies toy will laugh hysterically and roll around your floor, with the occasional surprise "Boing! Boing!" too. Just move or wave your hand and he will automatically start giggling again!

£19.99

Frog Kigu
A craze that has swept Japan and has now become a festival essential, you can transform yourself into a walking talking animal with this button-up onesie by Kigu. It features a lined hood with a fun 3D face and ears with a tail at the back and rib knit ankles and cuffs

£40.00

Children's Frog Croquet Set Game
This delightful Frog Croquet Set would be the perfect toy for a lovely summers day. Set it up on your lawn to create a fun and enjoyable game that your children are sure to love. The croquet set comes complete with 6 frog shaped hoops, 2 wooden mallets and 2 painted balls that have all been made from Sri Lankan alstonia wood.

£35.00

Summer Slumber Buddies Frog
The Slumber Buddy is the ideal bedtime companion for soothing your little one to sleep. A star and moon display projects around the room in 3 colour options - blue, green and amber. Complete with lullabies and nature sounds and a 30 minute auto shut-off, your baby or toddler will have the perfect good night sleep.

£17.00

Frog Grippy Mat
Frog Grippy Mat is your new sticky best friend that is your most needed accessory for your car! This specially sticky anti-slip mat, sticks on the dashboard of your car which you can then place all your gadgets and items on them, and they will hold on for dear life whilst you whiz around in your car!

£6.95

Eco Friendly Greetings Cards - Frog
The treemendous range of cards is unique in the respect that each recycled card contains a real tree sapling. The recipients of these unique cards can plant a tree and watch it grow long after their other birthday greetings cards have been forgotten.

£7.99

Stamped White Quilt Crib Top 40
Frogs Crib quilt top. Package contains 1 Stamped cotton/poly broadcloth size 40x60 quilt top with instructions for Embroidery and cross-stitch pattern Ink is designed to wash out easily. colour: White.

£13.99

Boon Frog Pod Bath Toy Tidy
The Frog Pod helps with children's bath time clean-up, providing a drainable scoop for collecting and rinsing toys and a wall-mounted base for storing bath products. The Frog Pod attaches semi-permanently to virtually any bathtub wall with adhesive strips that can be removed without harming tile or wall surfaces.

£24.99

Thomas Sabo Pearl and Frog Charm
Sterling Silver. Simulated Pearl Charm with Frog Detail. Lobster Clasp. To be Attached to Necklaces, Bracelets, Earrings and Mobile Phones

£50.00

Frog Pinata
This Frog Piñata works as a unique decoration or centrepiece as well as a game. This is a traditional piñata that needs to be broken up to release the goodies inside.

£12.95

Leaping Frog Ring
Elegant and stylish, this leaping frog ring is beautifully hand carved by Bill Skinner and his team.

£65.00
Remember to visit our blog for for even more gossip and facts about frogs!
---
Fairytale Frog Prince Tooth Box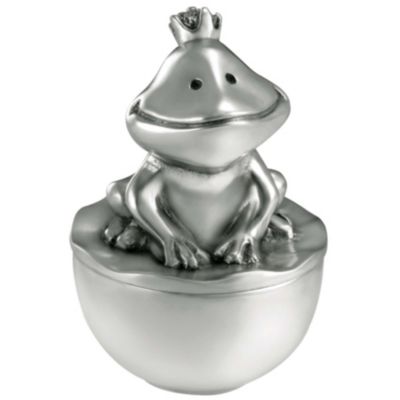 A magical gift for your daughter or a friend. Delightful gifts for all occasions.
£30.00
Froggie Green Wellie

Closed shoe. Slip-on. Water resistant.
£18.00
Tiffany Style Solar Frog

An ideal decoration to place next to your garden pond or water feature, this little frog looks cute enough by day but come nightfall he emits a warm, gentle glow. During daylight hours he charges up the necessary energy via a discreet solar cell.
£22.95