Obsessed with Penguins?
Welcome to our penguin gift ideas page!

Packed full of things for those who love penguins, we have found lots of penguin related goods, penguin facts, penguin gifts and penguin fun for you. From penguin jewellery to penguin clothing, you can kit yourself out in penguin merchandise or buy a penguin present for a penguin obsessed friend.
Tacky the Penguin - Book
Tacky is an odd bird who marches to the beat of a different drummer. Tacky's perfect friends find him annoying until his eccentric behaviour saves the day. Full colour.

£4.00

Playful Penguin Hat
Cute Playful Penguin can now accompany you everywhere on cold days with this warm plush hat.

£7.99

Personalised Penguin Kids' T-shirt
This high quality kids' T-hirt from B&C has a child-friendly and generous cut. It is available in different colours both suitable for girls and boys. This T-shirt is Shirtcity's standard kids' T-Shirt, because of the good price-performance ratio and because it supports all printing methods.

£17.95

Meet The Penguins at Bristol Zoo Gardens
Meet Bristol Zoo Gardens' cute and exotic penguins. Hailing from South Africa and Namibia, this is a quite exceptional opportunity to meet the unique African penguins. Expect an introduction from a zoo keeper before you get exclusive behind-the-scenes access to the penguin enclosure. What's more, entry to the zoo for is included, giving you ample photo opportunities!

£60.00

Lamaze Bend & Squeak Penguin
Lamaze introduces a new line of high-contrast toys for babies geared towards encouraging the development of baby's vision. Made with soft, premium materials, the Bend & Squeak Penguin features two sides of play.

£4.50

Hamleys Penguin 13
his Hamleys Penguin is an adventurer at heart - she has journeyed far and wide along the coast of Antarctica on her quest for a friend but has been unsuccessful. Give your Penguin a warm and loving home with lots of play and hugs and she'll keep you and your other soft toys cosy all winter long. Encourage children's imagination and nurturing skills with a little help from Hamleys Soft Toy collection.

£20.00

Magis Pingy Childrens Wobbling Penguin
Part of Magis' new collection for 2012, comes Pingy - the wobbling penguin. Pingy was created by world renowned designer Eerio Aarnio for Magis as a garden decoration or childrens ornament for in the playroom.

£173.40

Penguin Balloon
Cool Birthday Penguin balloon delivered on the morning of you choice to any UK address.

£25.00

Four Piece Penguin Cutlery
This children's cutlery set combines Viners' expertise with a fun penguin shape that young diners will love to use and find easy to hold. This set is specially designed for small hands and presented in a fun gift box.

£15.00

Footprints - Penguin Poster
Officially licensed animals print. Featuring an adorable penguin staring curiously at footprints in the sand. A beautiful image that captures the imagination of all.

£7.99

Penguins On The Rocks - Art Print
This fine art giclee print is based on a painting entitled Penguins on the Rocks by Jo Starkey. The artist is noted for her children's works. Primarily based around a light blue palette this portrait format print features penguin and nursery themes.

£15.99

Playmobil Penguin Habitat Superset
The Playmobil Superset Penguin Habitat includes a pool that can be filled with water and a rocky habitat for the penguins to explore. The set features a slide into the pool and comes complete with a Playmobil zoo keeper, a visitor, 5 penguins, 6 fish and accessories.

£20.00

V-Tech Splash And Count Penguin
Splish and splash in the bath with mummy penguin and her 10 little babies, each baby penguin easily fits into mummy penguin's tummy. Pushing the feet button releases them back in to the water. The baby penguins will say their numbers to help your child become familiar with counting. Press the light-up star button to hear music. Splish and Splash teaches your child counting, colours and helps improve motor skills.

£23.00
Remember to visit our blog for for even more gossip and facts about penguins!
---
Penguin Wall Clock

A beautiful gift for your child's room - it's not only decorative, but functional as well! Our Penguin Wall Clock is sure to appeal to young children, and features a smiling penguin, happily waving to passers by. The clock is wall mounted and includes a swinging fish pendulum. Personalise this great clock with any Name of up to 12 letters.
£29.99
Designer Metallic Penguin Lamp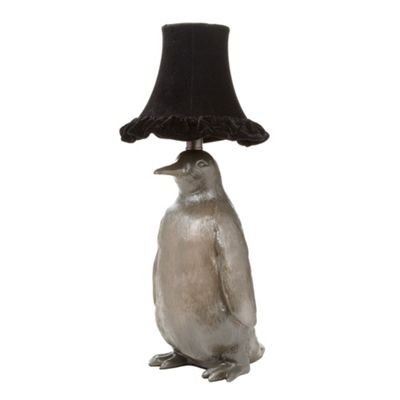 Add a creative touch to the home with this metallic penguin lamp with a black velvet shade from our exclusive range by Abigail Ahern for Edition.
£85.00
Playful Penguin Pillow Pet

Straight from the South Pole, this adorable black and white penguin will win you over with his sweet face and even cuter yellow beak. This is an 18" Pillow Pet.
£9.99