Obsessed with Penguins?
Welcome to our penguin gift ideas page!

Packed full of things for those who love penguins, we have found lots of penguin related goods, penguin facts, penguin gifts and penguin fun for you. From penguin jewellery to penguin clothing, you can kit yourself out in penguin merchandise or buy a penguin present for a penguin obsessed friend.
free!

Nerd? I Prefer the Term Intellectual Badass - Mug and Coaster By Inky Penguin
Do you get good grades? Like comic books? Prefer to read a good book than go to the club? Tired of being called a geek or a nerd? Do you wish people could be more politically correct? Then this mug is for you! Let all the frustration out with this fantastic mug that says exactly what you want it to!...

RRP: £10.99
Offer price: £10.99

RRP: £0.99
Offer price: £0.99
Remember to visit our blog for for even more gossip and facts about penguins!
---
Penguin Wall Clock

A beautiful gift for your child's room - it's not only decorative, but functional as well! Our Penguin Wall Clock is sure to appeal to young children, and features a smiling penguin, happily waving to passers by. The clock is wall mounted and includes a swinging fish pendulum. Personalise this great clock with any Name of up to 12 letters.
£29.99
Designer Metallic Penguin Lamp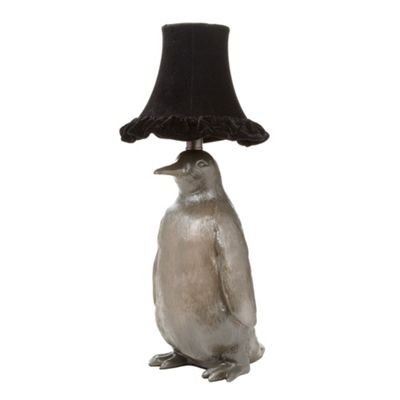 Add a creative touch to the home with this metallic penguin lamp with a black velvet shade from our exclusive range by Abigail Ahern for Edition.
£85.00
Playful Penguin Pillow Pet

Straight from the South Pole, this adorable black and white penguin will win you over with his sweet face and even cuter yellow beak. This is an 18" Pillow Pet.
£9.99