Obsessed with Penguins?
Welcome to our penguin gift ideas page!

Packed full of things for those who love penguins, we have found lots of penguin related goods, penguin facts, penguin gifts and penguin fun for you. From penguin jewellery to penguin clothing, you can kit yourself out in penguin merchandise or buy a penguin present for a penguin obsessed friend.
Flopsie 13232 12-inch Penguin
Flopsie Penguin is soft and cuddly and is so cute. Approx 12 inchs / 30.5 cm's in length, has Grey Fur, Black and White Face and a soft body with beanies inside. Beautifully handcrafted in fine plush materials - brought to life by Aurora World's expert team. European safety standards met and carries...

RRP: £12.99
Offer price: £10.57

Melissa & Doug Giant Penguin - Lifelike Stuffed Animal (nearly 61 centimetres tall)
With its signature black and white colouring and dramatic yellow markings, this lifelike stuffed penguin is ready for casual or formal fun! Quality construction and great attention to detail, make this penguin a durable and lovable pal. Befriend one or start your own penguin parade with two or more!

RRP: £21.99
Offer price: £18.97

Aurora World Pompom 6-inch Penguin - Multicolor
Pom Pom Penguin is very sweet and loveable with amazing sparkly eyes. This delightful soft toy is produced to the highest standard, using the finest plush materials. Approx. 6 Inches. Brought to you by Aurora World's expert team.

Suitable for ages 3 years +

RRP: £6.55
Offer price: £4.99

Keel Toys 30 cm Emperor Penguin
A high quality soft and cuddly penguin soft toy by Keel Toys. This cute emperor penguin stand 30cm tall.

RRP: £11.99
Offer price: £10.50

Magis Pingy Childrens Wobbling Penguin
Part of Magis' new collection for 2012, comes Pingy - the wobbling penguin. Pingy was created by world renowned designer Eerio Aarnio for Magis as a garden decoration or childrens ornament for in the playroom.

£173.40

Playmobil Penguin Habitat Superset
The Playmobil Superset Penguin Habitat includes a pool that can be filled with water and a rocky habitat for the penguins to explore. The set features a slide into the pool and comes complete with a Playmobil zoo keeper, a visitor, 5 penguins, 6 fish and accessories.

£20.00

V-Tech Splash And Count Penguin
Splish and splash in the bath with mummy penguin and her 10 little babies, each baby penguin easily fits into mummy penguin's tummy. Pushing the feet button releases them back in to the water. The baby penguins will say their numbers to help your child become familiar with counting. Press the light-up star button to hear music. Splish and Splash teaches your child counting, colours and helps improve motor skills.

£23.00

Hamleys Penguin 13
his Hamleys Penguin is an adventurer at heart - she has journeyed far and wide along the coast of Antarctica on her quest for a friend but has been unsuccessful. Give your Penguin a warm and loving home with lots of play and hugs and she'll keep you and your other soft toys cosy all winter long. Encourage children's imagination and nurturing skills with a little help from Hamleys Soft Toy collection.

£20.00

Lamaze Bend & Squeak Penguin
Lamaze introduces a new line of high-contrast toys for babies geared towards encouraging the development of baby's vision. Made with soft, premium materials, the Bend & Squeak Penguin features two sides of play.

£4.50
Remember to visit our blog for for even more gossip and facts about penguins!
---
Penguin Wall Clock

A beautiful gift for your child's room - it's not only decorative, but functional as well! Our Penguin Wall Clock is sure to appeal to young children, and features a smiling penguin, happily waving to passers by. The clock is wall mounted and includes a swinging fish pendulum. Personalise this great clock with any Name of up to 12 letters.
£29.99
Designer Metallic Penguin Lamp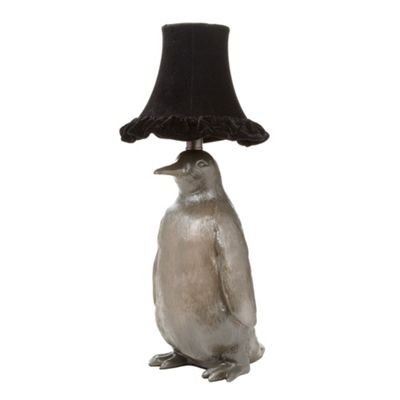 Add a creative touch to the home with this metallic penguin lamp with a black velvet shade from our exclusive range by Abigail Ahern for Edition.
£85.00
Playful Penguin Pillow Pet

Straight from the South Pole, this adorable black and white penguin will win you over with his sweet face and even cuter yellow beak. This is an 18" Pillow Pet.
£9.99