Obsessed with Penguins?
Welcome to our penguin gift ideas page!

Packed full of things for those who love penguins, we have found lots of penguin related goods, penguin facts, penguin gifts and penguin fun for you. From penguin jewellery to penguin clothing, you can kit yourself out in penguin merchandise or buy a penguin present for a penguin obsessed friend.
RRP: £0.99
Offer price: £0.99

Grey Unusual Cute Penguin Print Lightweight Scarf
Colour Name:No.10 Perfect accessory for in-between seasons, It's lightweight and comfortable to wear in different temperatures, as well as store in a bag if I take it off

RRP: £2.31
Offer price: £2.31

Unusual Cute Monty Penguin/Butterfly Print Lightweight Scarf
Surprisingly warm, this large scarf is a great accessory for all seasons and the print will delight all that can see it. Molly Louise offers a large range of colours to choose from and the quality of our scarves is monitored to ensure you get the best value for money. Perfect for penguin/butterfly l...

RRP: £3.29
Offer price: £3.29

Unusual Cute Penguin Print Lightweight Scarf Women Large Size Scarf
Women Lady Chiffon Butterfly Print Scarf Neck Shawl Scarf Soft Scarves Wrap Stole
Womens Lady Flower Printed Soft Chiffon Scarf Stole Scrawl Wrap
Scarf Beige Ivory Cream Sketch Tree Print, Ladies Wrap Shawl, Sarong Teal Maroon Red
Butterfly Lady Women Fashion Stylish Soft Scarf Sha...

RRP: £0.99
Offer price: £0.99

The Penguin Lessons


*AS HEARD ON BBC RADIO 2 FACT NOT FICTION BOOKCLUB AND READ BY BILL NIGHY ON AUDIO*




'I was hoping against hope that the penguin would survive because as of that instant he had a name, and with his name came the beginning of a bond which would last a life-time'

...

£4.99

Original Penguin Eau de Toilette 100ml
The fragrance has top notes of Purple Sage, Mediterranean Neroli and plump Golden Apple. These settle sumptuously into spicy Black Pepper, fresh Fir Needle and Lavender from Provence. Finally the base notes of rousing Red Patchouli and Tonka bean finished off with Vanilla Noir and Dark Musk make this an alluring male scent of depth and intrigue.

£43.00

Penguin Drink Coolers - Pack of 18
The Chilly Feet Penguin Drink Coolers - Pack of 18 are a fun way of keeping your drinks chilled, without diluting or affecting the taste. Filled with sterilised water, the cute penguins will dive straight out of the freezer and into your drink, and are completely safe and reusable.

£8.99

Magis Pingy Childrens Wobbling Penguin
Part of Magis' new collection for 2012, comes Pingy - the wobbling penguin. Pingy was created by world renowned designer Eerio Aarnio for Magis as a garden decoration or childrens ornament for in the playroom.

£173.40

Cute Penguin Wristband
Animals wristband. Featuring a cute penguin. Take home some cute penguins with the perfect wristband for animal lovers. 100% silicone wristband.

£2.99

Men's Penguin Cufflinks
Simon Carter quirky penguin cufflinks featuring red stone set detail for the eyes and white shimmering mother of pearl and polished black design.

£75.00

Heartwood Creek Mini Penguin
Height 9cm. Designed by artist Jim Shore. Supplied in branded gift box. Unique variations should be expected as product is hand painted.

£12.00

Swarovski - Rocking Penguin
Looking for a cute winter companion? Then this character in clear crystal with a matt finished face has to be yours! The body is decorated with Crystal Fabric and the sparkling earmuffs add a playful touch to this adorable penguin, which also makes an original Christmas gift. Decoration object. Not a toy. Not suitable for children under 15.

£39.00

Footprints - Penguin Poster
Officially licensed animals print. Featuring an adorable penguin staring curiously at footprints in the sand. A beautiful image that captures the imagination of all.

£7.99

Penguin Pack of 3 Striped Socks
This Penguin pack of three pairs of socks are an everyday essential. The striped design makes them more fashionable whilst still providing you with comfort.

£15.00

Penguin Bookrest Lamp
We love it when a product has a dual purpose, this quirky reading lamp gives you a soft light for reading before bed and acts as a rest for your book so you never lose your page. The shape of the lamp is enhanced when an open book is placed on it, giving the look of a house with a roof.

£34.99

Penguin Chicks Figurine
Each figurine is made from resin and has been finished in realistic colours. Height 15cm Width 17.5cm Depth 10cm.

£15.00

Four Piece Penguin Cutlery
This children's cutlery set combines Viners' expertise with a fun penguin shape that young diners will love to use and find easy to hold. This set is specially designed for small hands and presented in a fun gift box.

£15.00

Penguin Balloon
Cool Birthday Penguin balloon delivered on the morning of you choice to any UK address.

£25.00

Typhoon Pip Penguin Timer Blue
This Pip Penguin timer from Typhoon has a loud, long ringing alarm with a 60 minute timer and a fish point timer set. Perfect for brightening up your kitchen and getting your little ones involved come cooking time.

£12.00

Penguin Transport Poster
Our transport range caters to both broad and niche tastes, with images of both supercars and caravans. Browse our range by vehicle to find what you're looking for.

£11.95

Penguin Stuffed Toy Latch Hook Kit
This Huggables Penguin stuffed animal kit includes 3.75 mesh canvas 100% acrylic pre-cut rug yarn ribbon chart and assembly instructions. Eyes and felt instructions if applicable.

£30.99
Remember to visit our blog for for even more gossip and facts about penguins!
---
Penguin Wall Clock

A beautiful gift for your child's room - it's not only decorative, but functional as well! Our Penguin Wall Clock is sure to appeal to young children, and features a smiling penguin, happily waving to passers by. The clock is wall mounted and includes a swinging fish pendulum. Personalise this great clock with any Name of up to 12 letters.
£29.99
Designer Metallic Penguin Lamp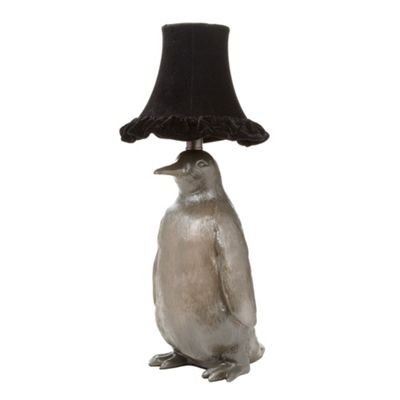 Add a creative touch to the home with this metallic penguin lamp with a black velvet shade from our exclusive range by Abigail Ahern for Edition.
£85.00
Playful Penguin Pillow Pet

Straight from the South Pole, this adorable black and white penguin will win you over with his sweet face and even cuter yellow beak. This is an 18" Pillow Pet.
£9.99