Obsessed with cows?
You've come to the right cow gift ideas page!

Packed full of things for those who love cows, we have found lots of cow related goods, cow facts, cow gifts and cow fun for you. From cow jewellery to cow clothing, you can kit yourself out in cow merchandise or buy a cow present for a cow obsessed friend.
Fresian Cow Print Blanket
Soft and cosy Fresian print fleece pram/travel blanket. Co-ordinating foot muff available. Machine washable. Made in the UK

£34.00

Nattou Alizee The Cow
Alizee the Cow is a gorgeous and squidgy soft toy measuring 36 cm high. This is the ideal companion for your child to comfort them day or night.

£19.00

Cute Cow Airwalker Balloon
Cute Cow Airwalker balloon delivered on the morning of you choice to any UK address. Airwalker balloons hover at ground level with feet that dangle to the floor to give the appearance of walking when pulled on their lead!

£23.00

Cow Alarm Clock
A classic bell alarm clock. The bells are for decoration only! Alarm sound is a digital 'beep.' Covered in cow print.

£3.24

Happy Hopperz White Cow
The hopping experience provides a great aerobic workout for toddlers and pre-schoolers whilst also strengthening their core muscles, increasing balance control and developing their coordination skills

£32.00

Hamleys Cow Hand Puppet
Hamleys Cow Hand Puppet boasts a super soft coat and a friendly, detailed face. Now boys and girls can bring their favourite animals to life with our fantastic collection of fine quality Hand Puppets. Hamleys Hand Puppet collection can help develop childrens imagination and role-play skills as well as encouraging creativity, independent and social play.

£10.00

Shape Sorting Cow
This makes a fantastic present - it's a classic toy but in a totally gorgeous, modern design.

£23.00

Soccer Champion Mo, Limited Edition 2014
This Mo's purpose is to travel to the games, where she will become a big success and help create a sparkling atmosphere for the fans and their teams. The year of issue 2014 is engraved on the bottom of this piece. Decoration object. Not a toy. Not suitable for children under 15.

£49.00

Swarovski Cowboy & Cowgirl Mos, Limited Edition 2014
This adorable pair of Mos wear hats, neckties - his in red and hers in pink textile - and clear crystal horns. Only available in 2014. Decoration object. Not a toy. Not suitable for children under 15.

£79.00

Dreamy Eyes Cow Cuddly Toy
Another smash hit from Aurora, the top quality makers of the adorable Yoo Hoo Bush Baby soft toy range - this Dreamy Eyes Cow is the perfect bedtime buddy to cuddle up with. Super soft fur and heart-melting large, sleepy eyes to look lovingly into.

£4.18

Cow Widgey Nursing Pillow
The Widgey breastfeeding nursing pillow is strong and firm and provides good support to the baby whilst feeding and supports their back. (Soft pillows offer no support to the baby's spine).

£36.00
Remember to visit our blog for for even more gossip and facts about cows!
---
Cow Socks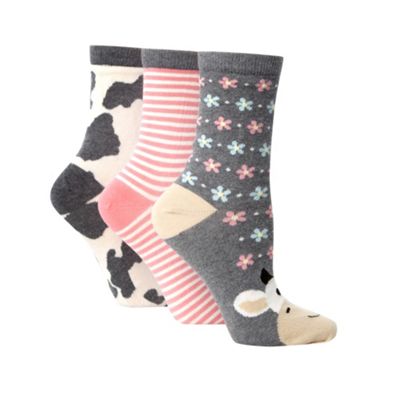 This pack of three cotton rich ankle socks from Debenhams come in three different designs including a grey floral cow design, pink and white striped and a white and grey cow print pattern.
£4.50
Frieda Cow Trunki

Trunki was created to beat the boredom so often suffered by travelling tots. Designed to be used as hand luggage, kids can pack Trunki with all their favourite belongings whilst parents keep them in tow.Dairy to be different with our gentle Friesian cow Frieda. She's one of our favourite members of the Trunki herd!
£39.99
Ornate Cow Skull Crop Tank in Charcoal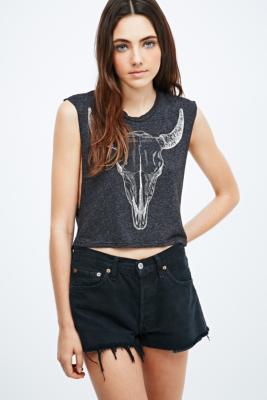 This tank by Urban Outfitters exclusive label Truly Madly Deeply features illustrated cow skull artwork for an offbeat twist to the simple style.
£22.00