Obsessed with Rainbows?
Welcome to our rainbow gift ideas page!

Packed full of things for those who love rainbows, we have found lots of rainbow related goods, rainbow facts, rainbow gifts and rainbow fun for you. From rainbow jewellery to rainbow clothing, you can kit yourself out in rainbow merchandise or buy a rainbow present for a rainbow obsessed friend.
Happy Birthday Rainbow Stripes Balloon
Happy Birthday Rainbow Stripes balloon delivered on the morning of your choice to any UK address. Delivered as a single or in a bunch of 3,4,5 or 6 balloons.

£34.00

Rainbow Sound Blocks.
Unique sensory toy, made from quality wood and featuring different shaped blocks, with various colours and sounds.

£18.49

Voila Rainbow Abacus Toy
The Rainbow Wooden Abacus is a wooden frame with rows of colourful beads that will help children learn to count. It can be used upright or lying down. There are 10 rows of beads, each differentiated from the other by a different bead colour.

£47.99

Rainbow Lens Aviator Glasses
These classic aviator-shaped sunglasses have an added psychedelic dimension with rainbow-effect mirrored lenses.

£16.00

Rainbow Cocktail Layering Tool
They say that you first eat with your eyes, and drinking is really no different. But trying to achieve those picturesque and beautiful cocktails has always been a painstaking task reserved only for the most skilled barmen and women. Well now you can effortlessly create these sharp and vibrant beverages with the Rainbow Cocktail Layering Tool

£19.99

Dark Side of the Moon - Pink Floyd
Officially Licensed Music Canvas Print. Featuring the art work from Pink Floyd's 1973 album 'The Dark Side Of The Moon'. A single beam of light entering a prism and reflecting a vibrant rainbow.

£24.99

Hunkydory Rainbow Mirri Card 302121
For everyone looking for a super-special finish - this Hunkydory Rainbow Mirri Card has everything you need! This top-quality mirror board has a beautiful holographic finish that shimmers and shines in every colour of the rainbow!

£11.99

Surfing the Rainbow! - Technicolour Surf Boards
Officially licensed art poster. Featuring a rainbow of surf boards along the golden sand. Grab your board and head to the beach to catch a wave or two with this quirky poster, guaranteed to brighten up your room. Panoramic poster.

£5.99

Angel Ribbons Christie Rainbow Jumper
Layer up in cuteness! The cosy Christie dipped hem striped jumper from Angel Ribbons with raglan sleeves has the perfect subtle sparkle! Gorgeously soft metallic sheen yarn runs through the soft rainbow stripe of this slouchy jumper.

£25.00

Rainbow Print Embellished Top
This bold asymmetric top features gorgeous pink embellishment at the neckline and is perfect for any summer evening occasion. This top looks lovely when worn with slim fit trousers and heels. Hand wash only.

£23.00

Cosatto Ditto Twin Pushchair - Random Rainbow
Meet the splendid stripey duo-driver for cheeky double acts. Ditto's independent recline lets you cruise one up one down, so no seating squabbles. Little legs can chill with the adjustable calf support and the fold-out sun-visors mean tots can catch zeds not rays. What a considerate swiveling, umbrella-folding pal.

£198.00

Fiorelli Rainbow Ribbon and Chain Necklace
Fiorelli rainbow ribbon and chain necklace with spikes and blue toned crystals. Chain length 46 cm. The combination of rich coloured stones, spikes and colourful ribbon give this necklace a fresh and individual look.

£29.00

Me To You Over The Rainbow For You
Me To You Over The Rainbow For You Collectible. Tatty Teddy wants to say Thanks by holding this beautiful rainbow peaking out from a cloud base. Perfect to help you say Thank You too.

£19.99

Rainbow Island Jigsaw Puzzle
A wonderful imagination to create this fantasy art, rainbow island. The surrealist artists introduced the theory of the liberation of desire through the invention of techniques that aimed to reproduce the mechanisms of dreams.

£12.99

Wilko Play Rainbow Stacking Cups 12+ Months
Wilko Play Rainbow stacking cups, 10 colourful cups that stack up to 63.5cm tall with holes in the bottom so they can be used in the bath. Helps develop key skills such as coordination. Always read label.

£3.00

Twilight Umbrellas - Rainbow
There are two Twilights available, the Starlight featuring twinkly white lights, or the Rainbow featuring constantly phasing multicoloured lights.

£24.99

Rainbow Coloured Shirt
Rainbow coloured shirt perfect for Festivals, 70's parties, Purim and stag do's. Add a pair of sunglasses to complete the look

£19.99

12 Piece Striped Dinner Set
Designed with all the colours of the rainbow and more, this fabulous 12-Piece Striped Dinner Set is guaranteed to inject some colour and happiness into your kitchen. The set includes a combination of plates and bowls, which are ideal for serving a range of meals. And because each piece of the set is made from porcelain, they're incredibly easy to clean and maintain

£17.99

Aquadoodle Rainbow
Let your child get creative with minimum mess thanks to the Aquadraw pen - or make larger strokes with the special paintbrush pen.

£24.00

The Rainbow Fish I by Marcus Pfister - Art 4 Sheet Wall Mural
Officially licensed art mural. Featuring the contemporary art by Marcus Pfister. Join Rainbow Fish and all his friends in another under water adventure as you look up through the rippling water to see the sun shining down and reflecting off the fishes and their colourful fins.

£26.99

20cm Dressed Rainbow Boy Doll
This Monchhichi Rainbow boy comes dressed in a special rainbow shirt in blue dungarees and like all the Monchhichi family it can suck its thumb.

£23.00

Rainbow Stripe Rug
We can't promise any pots of gold with this rainbow, but it looks so beautiful you won't care... It's also much kinder to little knees and toes than a hard floor.

£150.00

Chicco Rainbow Spinner
A traditional toy that has been redesigned to introduce baby into the world of cause and effect. Simply press the handle down to make the top spin, creating a swirling blend of colours and watch as the butterflies and ladybirds spin around the central mirror.

£19.00

Rainbow Quest
Josh Williams, a computer buff is keen to win a computer in a new competition. His own computer is having colour problems due to a virus. That is, until the rescue disk arrives in the post. Josh and his friend, Andy soon discover that this is no ordinary disk when they are whisked away into the screen saver of the computer.

£9.99

Cosipet Rainbow Fleece Superbed
Cosipet Rainbow Fleece Superbed bringing a splash of vibrant colour to your pet's life, these foam filled beds are made in multi coloured stripey fleece with fuschia pink. Removable base for easy care. Made exclusively in the UK

£16.99

Rainbow Unicorn Mini Dream Lite
The Rainbow Unicorn will illuminate your bedroom celling into a starry night sky at the touch of a button, and creates a magical and tranquil environment that helps kids ease into a restful sleep.

£7.99

Rainbow Roses Vase
This is a gift of fresh roses that is simply bursting with vibrant colour and is guaranteed to catch the eye. To create this truly unique display, each rose has been dyed so that the petals grow with glorious shades of yellow, blue, green, purple and pink. The result is a stunning gift that is perfect for any celebration.

£44.99
Remember to visit our blog for for even more gossip and facts about rainbows!
---
Ladies Gold Rainbow Diamante Chronograph Watch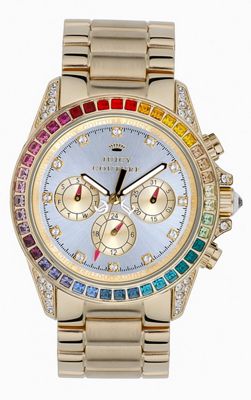 From Juicy Couture, this chronograph dial watch comes in gold with a rainbow diamante encrusted bezel and blue round face.
£295.00
HQ Symphony Beach 1.3 Kite Rainbow.

A classic toy and a great way of getting outdoors and active, the Symphony Beach Kite is designed to match the beginners to kite flying. This is a tough and forgiving dual-line kite that is excellent value for money. The Beach range provides easy handling and tons of fun whether you are looking for speed or pull.
£32.99
Links of London Rainbow Zebra Charm

Silver zebra charm with enamel rainbow stripes. Sterling Silver clasp with Links of London Logo
£45.00
Pony Rainbow iPhone 5 Case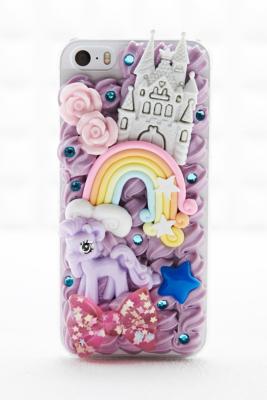 Embrace your inner child - and protect you iPhone 5 - with this bright and colourful snap-on case. With a nod to a well-known equine kids favourite, the case features a pony, a rainbow and a castle. A perfect selection of things found in a fairy tale.
£28.00