Obsessed with trains?
Welcome to our train gift ideas page!

Packed full of things for those who love trains, we have found lots of train related goods, train facts, train gifts and train fun for you. From train jewellery to train clothing, you can kit yourself out in train merchandise or buy a train present for a train obsessed friend.
London Underground Tube Tent
With the London Underground Tube Tent, the Northern Line just got extended indefinitely. Able to pack in around 72 people at a stretch, and sleep 16 comfortably over five different compartments; it's an excellent option for parties, large-scale camping and epic sleep overs.

£1,999.99

Paul Atterbury's Wonder Book of Trains
In this wonderfully evocative book Paul draws together marvellous classic colour illustrations, archive photographs and period line drawings and hand lettering with intelligent and insightful commentaries.

£16.00

Designer Blue Linen Train Driver Hat
This blue train driver hat from exclusive designer John Rocha is produced from pure linen with a cotton lining and small leather badge on the trim.

£22.00

Personalised Engraved Train Christening Glass Block
This train designed jade glass block is rectangular in shape and is extensively engraved to order. Engraved within as a graphic is a train which has been "infilled" using advanced rotary engraving techniques, which is time consuming but sets this gift apart as a high end Christening gift.

£27.95

Mega Bloks First Builders 123 Learning Train!
Teach your little one all about numbers and shapes as they experience building for the very first time with the Mega Bloks First Builders 1-2-3 Learning Train! Three big wheel bases and special train parts let you and your child build this cute train that introduces kids to the numbers 0 to 9, and makes learning to count fun by matching the numbers with their corresponding images!

£14.99

Thomas the Tank Engine Pillow Pet
Family favourite Thomas the Tank Engine is now a Pillow Pet. Enjoy lots of adventures with Thomas and then use him as a pillow when you get sleepy!

£19.99

Vtech Pop Up Friends Train
The train is ready to go, all aboard! Come and meet the happy animal friends: the dog, cat and bird, and join them on a fun journey learning about animals, animal sounds and colours.

£12.75

Engraved Train Tooth And Curl Set
A brilliant gift for a blossoming baby girl or boy, this precious rain tooth and curly moneybox will look stunning on their dresser to save up those pennies.

£29.99

Train Scene Counted Cross Stitch Kit
These beautiful and artistic images are sure to inspire and amaze! This kit contains 16 count white Aida fabric; Anchor stranded cotton floss; chart; needle; and full instructions. Design: Train Scene.

£42.99

Plum Train and Track Activity Table
Get on board this fantastic Train and Track Wooden Activity Table! The Plum Train and Track Wooden Activity Table is ideal for hours of creative role play and includes the track, vehicles and buildings that little ones need for hours of imaginative fun.

£300.00

M&D Whittle World Wooden Train Platform
Now pulling into the station: a train full of happy passengers! With this handsome wooden play set, children can link up the cars, stop at the station and call, "All aboard!"

£19.00

The Runaways - Jack Vettriano
Officially licensed art print. Featuring the Scottish art by Jack Vettriano. A young couple wait in the darkened underground as they long for the next train in this portrait of two runaway on a journey to somewhere far away.

£11.99

Walker Ride On Learning Train
Push around walker ride-on. Floor play - uses interactive learning activites on the engine to engage child. Push around walker - melodies and sound effects occur when used as a walker with easy to grip handlebar. Ride-on - attach trailer and train becomes a ride-on.

£39.00

Personalised Locomotive Kids' T-shirt
This high quality kids' T-hirt from B&C has a child-friendly and generous cut. It is available in different colours both suitable for girls and boys. This T-shirt is Shirtcity's standard kids' T-Shirt, because of the good price-performance ratio and because it supports all printing methods.

£17.90

Postman Pat - Greendale Rocket
Collect both the trains from the hit TV show Postman Pat. Choose from the classic Greendale rocket or the new Pencaster flyer! Both vehicles are free wheeling and can fit your Postman Pat figures inside enabling you to create your very own Greendale adventures.

£14.99

In the Night Garden Ninky Nonk Train Set.
All aboard! Let the Ninky Nonk transport you to the magical imaginative world that is In the Night Garden. This roll-along Ninky Nonk train set has 5 colourful cars that kids can connect together for endless fun!

£9.99

Stacking Wooden Puzzle Train
This stacking wooden puzzle train is an adorable traditional toy that any small child would have hours of fun playing with, not only can it be pulled along but each carriage breaks down into building blocks.

£25.94

Chuggington Calleys Wooden Rescue Set
Calleys Rescue set features a unique 2-in-1 Rescue Shed. Stack for a 2-level rescue shed, unstack for a track elevator and stand alone tunnel. Set includes Calleys Rescue Computer with lights and sounds, Calley, Wilson, 2 rescue cars and 2 track hazard areas. A complete 39 piece set. Requires 2 x AA batteries (not included)

£100.00

Point of Departure - 115cm x 175cm Mini Wall Mural
Officially licensed travel 1 sheet mini mural. Featuring a range of transport methods. Take a trip with this brilliant car, boat, plane and train collage heading out of the big city. 1 Sheet Mini Mural.

£21.99

Pandora Silver Pandora Train Charm
This Pandora Train charm from the Pandora Autumn/Winter Collection is sure to catch the eye. A Sterling Silver Pandora Train features a detailed train design, set with clear cubic zirconia and an official Pandora logo on the side.

£40.00

Grandad's Attic Jigsaw Puzzle - Train
A charming illustration by the popular artist Trevor Mitchell, featuring a lovely scene between a grandfather and his grandson, both railway models enthusiasts. Manufactured by Gibsons from their high quality cardboard, this 1000 piece jigsaw is a pleasure to put together.

£12.99

LeapFrogTouch Magic Counting Train
Little touches. Big learning. All aboard for nonstop number fun and early vocabulary with farm friends. Touch numbers 1-20 to hear their names and count along.

£20.00
Remember to visit our blog for for even more gossip and facts about trains!
---
Thomas & Friends Wooden Railway Thomas

Introducing our Thomas Wooden Railway Engine! Thomas is the Number 1 blue engine. He is a cheeky little engine who often gets into scrapes, usually by being over-eager to do things best left to bigger and more sensible engines. Thomas Wooden Railway Engine works great with any Thomas and Friends Wooden Railway sets and provides endless hours of play!
£10.00
Hornby E-Link Majestic Train Set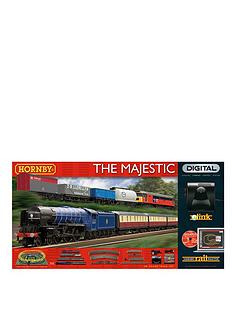 This simply amazing train set has to be the gift of a lifetime. The incredible contents include not only a powerful Pacific type locomotive liveried in the eye-catching Experimental Blue colours of the early British Railways days but also a modern style Class 47 diesel which is ideal for hauling the assorted wagons around the twin oval of track.
£500.00
Hornby Silver Jubilee Train Pack

Hornby LNER Silver Jubilee train pack. DCC ready with 3 coaches. Minimum Age: 6 Years
£160.00